08/02/2007 (5:28pm)



Second part of trilogy is called 'Charity" . Charity is giving love for free. Either you have it or not. I try to share music that I believe is good for free with my friends. Although there are a lot of people in the music market making rules with the only principal …MONEY. I will continue to be "illegal" and I will continue to share good music for free (you get free promotion from me don't you?) .You can delete as much links as you want… I will continue to upload and spread…upload and spread… upload and spread …. cause good music is a gift and everybody must have access… either poor or rich. Songs are giving me inspiration… I play with them…. I don't just play them. I create… if you don't understand that, then the only thing that I have to say… fuck off…. YOU are killing music YOU are killing inspiration… not me. I love music not money…what do you love? Charity... This one is more close to my style. I will make no comments for my new mix… I will leave this part to you…..

19/01/2007 (10:46pm)



The new production will be a trilogy. 3 different cds 3 different styles of music and moods… First one is called "faith". Faith must be strong, must be persistence, must be full , must cross the limits, sometimes difficult, sometimes painfull…. This cd is out of my limits or as a friend said just crossed them a bit…total war in my head… trying to feel all the frequencies… strong enough… think I cant stand it more… but I got faith… hope you understand it.




16/12/2006 (9:14pm)


So much time wasted in army. I am still there "hunt" for my life. 11 months and still to go. But the microbe of music still running in my veins. "The hunt" is online... yeah not bad for start again. Then the "k beat"... i am full of feelings packed down in my soul.... Inspiration? trying to get my life back again...

Enjoy!
New place for myspace friends added http://www.myspace.com/cjdimitrist
Also desided to make a seperate folder for them in rapidshare
http://rapidshare.com/users/3PSAXF
pass:letmein

26/01/2006 (8:03pm)


After "my trance vibration" a new mix is comming... the first mix of 2006 is called "the story". Really nice mix with my well known style of music.

enjoy!!!

9/12/2005 (2:09am)


So much inspiration closed in almost 75min of music… I could play for more and more… this night… what a night… All the memories are coming back getting down in my deepest place of my soul…what a melody… and a friend is telling me…"hey motherfucker this is drum n babe in the distance…" So much true… drum n babe in the distance…so much anger… but one day it will shine again…and this time… like never shined before…

This one is dedicated to drum,babe and my soul…

Enjoy!


26/10/2005 (2:34am)


Lostforever is finally online!This one is little more chilly than the others which is my mood at this period. Hope yours also.

enjoy!!

19/10/2005 (1:17am)


Long time no see.
I desided to upload my old work since a lot of people are asking for that.
After searching to the internet for the best option i reallize that megaupload.com and rapidshare.com are the best options of what i want to do.
So almost all of my older cds will be uploaded to their servers.
Links to my older cds you can find in the "download my mixes" area
More cds from me will be linked every day untill most of them will be eventually uploaded
Requests also can be made in shoutbox.

I would like to thank fred for helping me out with all this procedure

Enjoy


17/3/2005 (7:18pm)

Cj-Dimitris.T is back! The new cd is called "DeepSeaSky". I will not introduce that one here....I think its talking by itself... I would like to thank Mr.George D for his lovely feeling in the music and also Mr.Tact-X who creates all the latest covers and is the official "priest" of my cds.

Dedicated to the memory of Ruud.

19/2/2005 (8:10pm)

I removed my new mix from the server.Simply cause i didnt like it...

18/2/2005 (1:01pm)

2 months passed and i am comming with a new mix called "spacexplore".This mix is melodic but wild.It is difficult to fit so many informations in 69min and this cd have a big dose of informations for your ears transmited directly to your brain cells.I think that you will find it hard and maybe you will not like it.Its the kind of mix that i call "only one time listen" only when you are in that mood...The music is driving you to a special kind of trip...spacexplore trip...with every transition made in this way to understand where i add a new information.I wanted to keep it soft but no success...my brain needed something stronger at the time i was making that mix...making my self in the mood of shut up and listen...

Last word...

Enjoy!

22/11/2004 (3:41pm)

Yesterday from 17-20 local time there was a show in NEXUS Radio in Nicaragua 90.5fm (goverment station) ((((90.5 NEXUS)))) dedicated to me.They played 3 hours parts of my mixed cds and my new release yingyang.Thanx a lot to Mixer dj and his show "Mixer Electronica" for the show and his feedback of this show that is now in my hands.

14/11/2004 (5:57am)

Long time with no inspiration to mix...After all this time i am back!This time the sound is deep if i could say its black.Getting back to the point i started with the knowledge of presence.Pain is the correct word for inspiration i think.Yang trying to reach Ying.Ying trying to reach Yang.And me...always in the corner...

2/10/2004 (2:33pm)

This was a crazy month.More than 10.500 cds downloaded from the server.More than 1000gb transfer! That made me happy and forced me to buy more space in internet for this year.My next alboum will be ready this month.The statistics are here:

1/09/2004 (5:01pm)

New cd Gene Eva impressed a lot since 7110 cds downloaded this month also.Thanx a lot for those lovely words that i got in e-mails.It makes me feel strong enough to keep mixing and sharing my job in internet.My next cd will be more atmospheric.I have already choose the songs that i will mix.So my new job it will be available propably in less than 15days

15/08/2004 (6:43pm)

The inspiration came again and as an action of that i release my first Track.Its called "Estelle" its chilly french house at 130bpms its 6:30 min long with 3 brakes for mixing at 30sec 1 min and 2min.So it can be easy mixed.To download it i have it in download section.Its 5.46mb (vbr) if you want better quality contact with me.

06/08/2004 (6:18am)

Long time no see.So here i am again with new cd.This one is something special.Tittle is "Gene Eva".I dedicate it to a very good friend of mine with a lot of thanks for giving me the inspiration to create something that i think is really me.Its so good when you can express your feelings with music.Although that most of the people that will download this cd will say that it just sound good or strange some of them will understand my feellings.Those ones i would like to thank in advanced for sharing the secret ...

20/6/2004 (4:23pm)

Long time no see.Those 2 months more than 4000cds downloaded from my server as you can see by your self at my stat page

http://stats1.verat.net/virtual-dentistry.com/

thats the good new.The bad new are that the project of my new mix is abanded.The reason? i wake up one morning and i was listening my mix drinking coffee and its not something special.

27/04/2004 (4:03pm)

Signals is down.Looks like it didnt got good comments.New cd "Where is the Limit?" is on!Progressive trance ofcourse.The cover is one picture 1000 words the music is 1000000000 words. Enjoy!

22/02/2004 (3:32pm)

Long time no see.Too much work in those months that past with no time to enjoy making mixed music.But i am back with an experiment.This is how i call my new cd called Signals.I gather songs that for me are passing some signals from all over the world.So this cd is weird...for sure its for personal use only...or maybe share it with some special friends.I am sattisfied from this cd.I am passing from underground-progressive vibes through dark house and ending with progressive trance.But the story is weird you have to listen to it to understand what i am talking about.Some of you will love it and some of you will hate it.I am ready to hear both of opinions.This cd will replace VIP ROOM

1/11/2003 (5:46pm)

New mix is ready.But i didnt upload still since there was 1030 cds d/l this month. My limit is 100+gb tranfer each month.103.8gb transfer with no change in the mixes is a great score.I got a mail from the company that i host my mixes saying that at the end of each month the d/l is going slower cause of my limited transfer.:) I don't mind on that.The new mix will be propably uploaded this month.Those that are in my FRIEND LIST will be informed first.also there are 30 web sites See at "press room" (actually those that i could trace) that host the links to my cds. if you see some forum or site hosting the links of my cds please send a screenshot to

dimitris_tsanak@hotmail.com

. Thanx a lot !

1/10/2003 (9:44pm)
1060 Cds!!! downloaded from my server at September.I will continue uploading my mixes for another year since i have payed for one year more.More than 100Gb transfer!Thats good news:) thanx everybody.Dont forget to subscride in my Friend List at "download my mixes"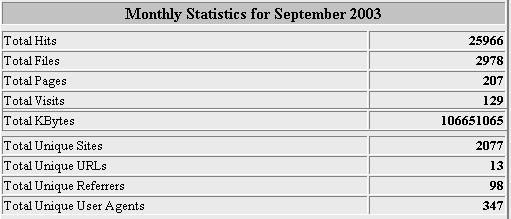 5/9/2003 (10:57pm)
There is a shoutbox in the "download my mixes" section.You can leave your msg there.
1/9/2003 (3:22pm)
780CDs Downloaded from my server just this month!!!
"Acid Trip" Is Online!
One new mix will replace "trance mission" also.Its maybe the last month that my cds will be available on net :(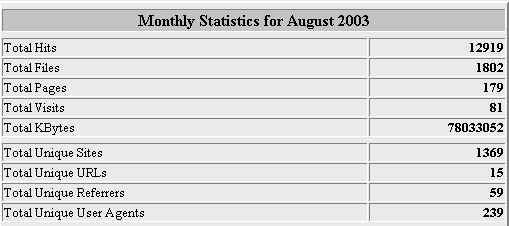 30/8/2003 (8:01pm)
Good news.A new mix is comming.Totally fresh.
Its called "Acid Trip" and is going to replace "Trippin".
Not chill at all although...Its just the next step after "Vip Room"
1/7/2003 (8:18pm)
Amazing!....45.1Gb downloaded from the server this month....That means 451CDs downloaded just this month!
Check it by yourself!
20/6/2003 (5:42pm)
"Vip Room" is online: its a cd of progressive club house for after listening
"Trance mission" is online: its a cd of trancy vibes pretty cool:)
Enjoy:)
6/6/2003 (5:47pm)
about statistics from server
feb:47cds
mar:33cds
apr:18cds
may:48cds
i have a surprise for all of you soon!:) its not "trance mission"
STAY TUNED!

29/05/2003 (3:25am)
ITS TRANCE TIME.... A new cd will be uploaded called Trance Mission.Its a mixure of progressive trance with a great positive energy and atomixmp3 ofcourse.STAY TUNED!Playlist is updated
30/4/2003 (11:36pm)
Trippin' is online!Its a mix of acapellas and some really tripping songs:)Its...something different...its...trippin'
enjoy.
30/3/2003 (4:25am)
Here are the good news.New cd is comming real soon.The title will be TRIPPIN'.I really cannot say anything else about it.Its a real trippin if you know what i mean.Also Photo section is updated:) Stay tuned!
1/2/2003 (9:48pm)
Last month (january) i didnt made some good mix, because a lot of changes happened in my life.I finished my University and i am a Dentist now.I left from Belgrade and i am living to Thessaloniki-Greece where i started to work as Dentist.So i didnt had a lot of time to make my hobby :)
But!
Revenge time!:)

01/01/2003 (5:34pm)
HAPPY NEW HEALTHY YEAR!
This month was great!9.6gb!A Lot (over 100cds) downloaded from the server this month.I didnt searched statstics yet to be sure about the number.I wish all the best for you people who listen my music.Music Must Be Free.
HAPPY NEW HEALTHY YEAR!

18/12/2002 (2:16am)
This is the big day and night.I uploaded two new cds Mp3 192kbps "Rigor Mortis" and "My Life In Belgrade" The first on is Progressive House&Trance,the second is Atmospheric Trance full of feeling and musical colors.Both of them are available for downloading.From the other cds only "Coffee Shop" and "Astral Projection mix" are still on server which will stay in Mp3pro 96Kbps form.
Enjoy!
And Happy X-Mas :)
1/12/2002 (12:31pm)
Ok lets see what happened this month.According to the statistics 89 cds downloaded last month.Its pretty good."Rigor Mortis" will come after 10th of December.It will be my x-mas gift for Clubbers only!

17/11/2002 (5:39 pm)
The new cd is ready, i am just waiting from some downloaders to finish downloading.The new cd is called "Rigor Mortis" and its a totally Clubing Progressive house.Little bit hard for sensitive ears:).In this cd i first tried another way of mixing.I think that it is very good since i am listening it all the time :) It will be soon uploaded.Stay Tuned!
Users on my mail list will enjoy a small sample before the cd is published
14/11/2002 (9:40pm)
"Fever" is down,sorry but i had to use the space for something else.Also "totally progressive" will be down as soon as i upload my new mix.This time it will be at mp3 in 192kbps.Untill the end of the year almost all mixed cds are going to be deleted from the server and new ones are going to come.The cds will be only 3 at 192kbps and will be changed every month.So you really have to aplly in my e-mail list to get known when you can start to download new stuff.More details at "Download my mixes"
1/11/2002 (12:16pm)
88cds downloaded from the server in this month.After this i decided to extend the online period of that cds for one more month.The least downloaded cds which are now fever and clouds will be deleted from server in 15-20 days and i will upload a new cd,this time it will be in the form of mp3 192kbps and not mp3pro as a lot of people find mp3pro difficult to use,and the server is really fast (T3) .Stay tuned!

21/10/2002 (2:40pm)
From 2/10 until 21/10 that means 19days more than 3Gb downloaded from the server...According to the next table we have 3055972/50000=61cds Not bad at all:)
2/10 - 21/10

12/10/2002 (2:40am)
New covers for Fever and Clouds thanx to jelena...enjoy...
10/10/2002 (12:16am)
The new cd FEVER added to this website for direct downloading.....its a trip throught progressive house and trance.....enjoy...
The cover is not good we will try to fix it
8/10/2002 (12:51pm)
The new cd called Fever is going to be published in this site in one or 2 days...the mix is ready i am waiting for the cover to be finished..This cd is one of the cds that i like the most because it is deep progressive and trance atmospheric a lots of melodies never get borred to listen it again and again..
You can send me your e-mail at the download section to e-mail you when some of my new mixes are available for downloading....
4/10/2002 (10:35am)
The cds are uploaded at europeonline thanx to aswtos and the prediction is that 2.500 persons will have them at their computers untill tonight.We are waiting for replies of these persons to be sure about the number of the downloaders.........
3/10/2002 (10:43pm)
My site is ready for direct downloading of my project cds different stiles of music from progressive to tribal and from deep to chill and trance........
(available cds:Astral projection mix, clouds, totally progressive, coffee shop, voices)